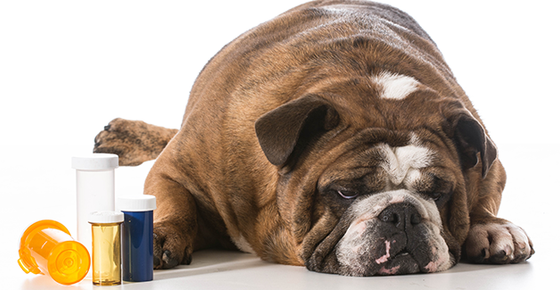 Leptospirosis is a bacterial, worldwide disease that can also affect humans. Dogs are usually exposed by contact with the urine of affected animals, often wildlife, or by drinking contaminated water. There is a vaccine that can protect dogs from four strains of Lepto.
Antifreeze toxicity is another common cause of renal damage. Dogs like the sweet taste, and ingesting even a small amount can affect the kidneys. They are often exposed by licking the garage floor where the car radiator has leaked.
Drugs can cause kidney damage; NSAID's, some antibiotics, and heart medications have been incriminated. Non-steroidal anti-inflammatory drugs (NSAID's) can cause renal damage, especially if over dosed. This most frequently happens when a dog, receiving a chewable form for arthritis, chews up and eats the whole bottle of pills! Be sure these bottles are out of reach of all your pets. A class of antibiotics called aminoglycosides can cause kidney damage if over dosed or if the dog is dehydrated. Heart medications can stress the kidneys, as well as the heart disease itself can stress the kidneys. Heart patients on meds will usually have their kidney function checked regularly.
A bad infection of the kidneys called pyelonephritis will cause renal damage. A variety of bacteria can cause this. Cultures of the urine are important to determine which antibiotics are effective, then to assess if and when the infection resolves.
Foods and treats can even cause kidney damage. Raisins, grapes, and currants can cause kidney damage, although the toxin is unknown. It does seem to be from the flesh of the fruit and not the seed. Even just a handful of grapes has sickened dogs.
The chicken jerky treats from China have sickened, and even killed, hundreds of dogs. The FDA has released warnings, but the treats are still available on the market. There has been a great deal of study, and inspection of facilities in China, but the toxin has still not been identified. There are reports that the duck jerky and veggie jerky treats may also cause kidney disease.
Watch for Symptoms
Symptoms of acute kidney disease are vomiting, lethargy, poor appetite or not eating at all, possible diarrhea, not passing urine, or possibly urinating more volume than normal. Depending on the cause, there may be fever and abdominal pain.
Treatment always includes hospitalization and intravenous fluid therapy. Time is critical as the longer the disease process endures, the more kidney tissue damage may occur and may become permanent. If it is possible that your dog ingested antifreeze, call your emergency hospital right away as there is an antidote but it needs to be administered within a few hours. Other treatments, depending on the cause, may include antibiotics and drugs to control nausea.
If you suspect your dog may have developed kidney damage, an examination, blood tests, and urine tests are in order. Your veterinarian can diagnose and treat your dog. Better yet, discuss with your veterinarian methods to try to prevent kidney damage!
Sources:
"Acute Kidney Injury in Dogs of the Central Coast". Colleen Brady, DVM. DACVECC, Pacific Tide newsletter , Volume 2, issue 1.
"Aminoglycosides: Nephrotoxicity". Mingeot-Leclercq and Tullen, Antimicrobial Agents and Chemotherapy, 1999 May; 43 (5) 1003 - 1012