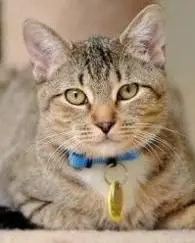 Losing your pet can be a traumatic experience and it often occurs unexpectedly. Accidents do occur, such as your pet:
- escaping out the door/window that was accidentally left open

- bolting when frightened by loud noises (thunder, fireworks, etc.)

- running off if the leash or collar break

- being separated during a natural disaster

- being stolen (whether unintentionally by a good Samaritan who found them roaming around or intentionally...)

- and many more possibilities..!
There are two forms of pet identification: permanent and visible. Permanent identification includes microchips and tattoos, while visible identification are collars and tags.
At Dawson Street Veterinary Clinic, we offer the service of a microchip implantation. Please review the different types of identification.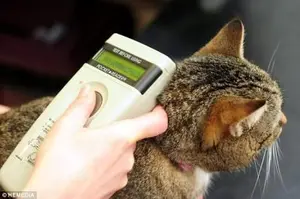 Permanent form of identification, implanted under the skin. Valid internationally if an ISO microchip was implanted.
Tattoo
Visible form of identification. May fade over time, only valid in the province it was done in.
Dog License
We no longer sell Burnaby city dog licenses. You may purchase these online from the City of Burnaby website.
"As a pet owner, it's your responsibility to buy an annual dog licence per the City's Animal Control Bylaw".
Besides following the bylaws, obtaining a dog license tag serves as visible identification and as information on both owners and dogs are collected at the time of registration. If needed, we can provide you proof of your pet being spayed/neutered if the procedure had been done at our clinic. Please contact us to request a spay/neuter certificate.
Having some form of identification increases the chances of lost pets and their owners being reunited. It is also a good idea to have more than one form of identification. Although visible forms of identification can be used as physical proof of ownership, collars or tags may come off. Alternatively, even though microchips are permanent forms of identification, they are implanted under the skin, meaning they're unseen. Therefore, it would be ideal to have multiple forms of identification!